Visions Venues
Find us at:
Visions Children's Centre
Catmos Street
Oakham
LE15 6HW
Children's Centres are designed to help parents, families and carers with children up to the age of 11 years old.
We currently have a Children's Centre Hub situated at Catmos Street, Oakham and Spoke Centres in Uppingham Community, St George's Barracks and Kendrew Barracks.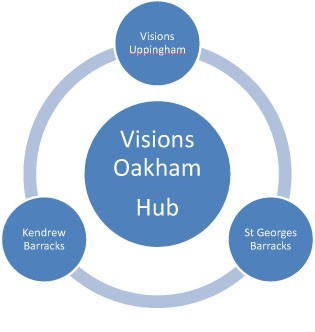 Our aim is to work in partnership with children and families by providing a range of services to ensure that parents and carers are supported and that children get the best possible start in life.
Some of our activities and services include:
Drop-in activity sessions for children
Family support services and activities
Child and family health services
Active parental involvement
Effective links with Working Links
Spoke Centres:
Uppingham Community
Uppingham Scout Hut
Tod's Piece
Uppingham
LE15 9PU
Kendrew Barracks
(Community Room)
Cottesmore
Oakham
LE15 7BL
St. George's Barracks
(Community Room)
North Luffenham
Oakham
LE15 8RL